Introduction
In this super episode we will know what is PhonePe App in 2022? How to earn money from PhonePe App ? How to get cashback, but before that we will learn to create an account in this app and run it properly, because to earn money from this app, we must download and run it in our mobile.
What is PhonePe App?
phone pe is an app through which you can transfer money from one bank to another, do any kind of recharge like Mobile Recharge, DTH Recharge, Electricity Bill Payment, Water Bill Payment, Train Ticket Booking Apart from this, if you have a shop, you can also take payment from customers through Phone Pe App.
Phone Pe is being operated by Yes Bank, you may also have an account in Yes Bank. If you have run Paytm App , then phone pe app also works like this, just like Paytm, after completing KYC in this app, all the facilities are available to you.
You can link all your bank accounts in Phone Pe App and check the balance of all those accounts in just one click, transfer money from one bank to another without any charge, so let's know Let 's see how to earn money from PhonePe App .
How to earn money from PhonePe App?
Now we will first know how to download Phone Pe App and how to create your account in it, then we will know how to complete your KYC in this App, and then we will know how to earn money from Phone Pe App.
How to Download Phone Pe App?
To download the PhonePe App, you click on the given link PhonePe , as soon as you click, you will go to the Play Store and this app will be in front of you, now as you click above install, this app will start downloading and then your You will be installed.
How to create account in PhonePe App?
After downloading, open this app by clicking on Open and as soon as it is opened, it will ask you to enter the mobile number, but keep in mind that your phone should have the same mobile number which is registered with your bank.
Read Also –Make Money Online
If the mobile number registered with the bank is not present in your phone, then first of all you insert that SIM card in your mobile phone then open this app. After entering the mobile number, click on Proceed below.
After clicking on proceed, it will ask you for permission to read the message, you will allow it, and then OTP will come on your same number and that OTP will be detected by itself and OTP will be submitted automatically.
How to Link Bank Account on PhonePe?
As soon as the OTP is submitted, you will come to the home page of this app and now we will link your bank account in phone pe, for this a message will appear on the top of the home page itself "Complete your profile" and below that "Complete setup" have to click on. (see picture below)
On clicking "Complete Setup", another page will come in front of you and here you will get four options, link your bank account with phone pe by clicking on Add Bank Account in the first option.
The second option is Activate Wallet, then you activate your phone pe wallet by clicking on it, and the third option is, upload profile pic by clicking on it and enter your profile picture.
By clicking on the fourth option add card, you can save it by entering your ATM card details, then on the fifth option, click on add address and save it by entering the address (see picture below)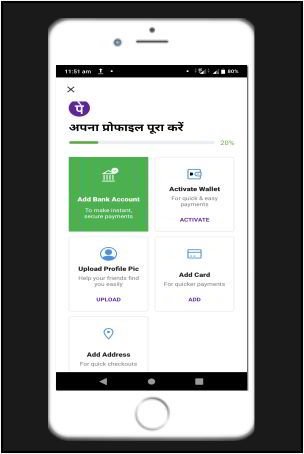 Now after doing this much work, your almost phone pe account is ready, now one more work is left and that is to complete the phone pe KYC, and after completing this process also we will know that, money from PhonePe App How to earn
How to do KYC in PhonePe App?
To complete your phone pe KYC , when you open the phone pe application, your profile icon appears in the top left side, you have to click on it, many options will open as soon as you click, now it will be written at the bottom. "Please complete your KYC" (see image below)
Now you have to click on "Verify" as shown on the arrow icon in the above image, and on clicking confirm, a small form will open, in this form above in the form of PAN card document It will be already selected, now you have to enter your PAN card number below and then what is the name on your PAN card below that and then click on "Submit" at the bottom.
Your phone pe KYC will be completed as soon as you click on "Submit." Now your account will be fully set up on phone pe as soon as you complete a transaction on this app through BHIM UPI.
How to pay with PhonePe?
Once you have completely completed your PhonePe account, you can now pay anywhere with this app. For example, if you buy goods at a shop and money is taken from the phone pe app there, then you can pay them from your phone pe app.
You can pay by scanning anywhere in the shop, almost all the shops have a photo of the phone pe bar code in their shop, to scan that code and pay by phone pe, you open your phone pe app , and a small icon will appear at the top of the home page itself, click on it (see image below)
The camera will open as soon as it is clicked, now place it in the middle of the camera in front of the picture of the barcode put by the shopkeeper, as soon as it is taken in front, your phone pe camera will scan that barcode and will detect their phone pe address. Now you enter money below and then click on pay, your payment will be successful.
By doing this, you can pay from the wallet on your phone by not paying cash in any shop, whether it is Mother Dairy or any kind of shop, just if the shopkeeper takes money from the phone pe app, then only you can make the payment. If found, now we will learn in the further process, how to earn money from PhonePe App .
how to earn money from phonepe app
You will also promote cashless on one hand by using Phone Pe App and on the other hand you will also be able to earn a lot of money from this app. If you have a lot of followers on your social account, people follow you then you can earn thousands or even lakhs of rupees through this application.
Now we are telling you many different ways below, by adopting which you will be able to earn money from Phone Pe App. And first of all we will talk about referral earning on the phone which gives the highest earning.
What is PhonePe Referral Program?
Whenever someone new comes to the app market, no one knows, the developer of that app starts spending some money to increase its download and popularize it, and run the program of referral and earn.
Under this program, the company tells us that you share it with your friends and in return we will give you money, but now how will that company know how many of our friends we shared and downloaded it, for this we have to You have to download the application and create an account in it.
After creating an account, we choose the option of sharing from within the same application so that when we share to someone, our referral code will be mentioned in that link, and when anyone downloads it, then the company through the same referral code Be able to find out that the one who has downloaded has downloaded from whose referral link.
Phone Pe Refer and Earn
If you refer phone pe to any of your friend and he completes the first BHIM UPI transaction by clicking on your referral link and downloading the phone pe app, then you get ₹ 100 immediately.
When you send your phone pe referral link to someone, then your phonepe referral code is in that link itself and when someone clicks on that link and downloads phone pe to their mobile, then understand this through the same referral code on the phone. Takes that you have downloaded that person by referring and gives you the reward of the same in the form of ₹ 100 on the phone.
That is to say, even if your friend will download by going to play store directly, then the same application will remain and even if he clicks on the phonepe referral link sent by you, it will still go to the play store and download the same app, then you Tell a friend to click on the link you sent, then go to the Play Store and download it.
But keep in mind that once a mobile is installed on the phone and then they remove it from their phone and then download it again from a friend's referral link then you will not get the referral money.
The person to whom you are sending your referral link has never been installed on the phone before, when he installs for the first time and makes the first transaction, then only you will get ₹ 100 of the referral.
So if you have a Facebook group or a WhatsApp group and people follow you, then you can share the referral link of phone pe in your group and ask people to download if 50 people download in 1 day and make their first transaction. If you complete then you will get ₹ 5000 for referral immediately.
How to earn money from PhonePe App ? In this series of we would like to tell you one important thing that at present you get ₹ 100 for a referral on phonepe refer and earn and it also decreases and increases with time, when you refer your friend, then definitely check that that How much money are you going to get for one referral at a time?
PhonePe Referral Cashback Not Received
Keep in mind that the program of refer and earn PhonePe keeps turning on and off from time to time, whenever you share this app to your friend, then before that you must check whether this program is running at that time or not, if that At the time this program is closed, then you will not be able to get referral money.
To check whether the refer and earn program is running or closed, when you click on "refer and earn" to share with your friends, there will be a lot of sharing options, the same will be written above "earn" ₹ 100" So as you click on it, you will see whether this program is currently running or is closed.
PhonePe Cashback Offers
After referral income on Phone Pe, now comes the turn of PhonePe Cashback Offers . When you do any transaction on this app, you get a scratch card with that card which has a coupon code for you which you can use while doing the next recharge or purchase on PhonePe.
Any transaction you do on Phone Pe App whether you recharge, transfer money, book tickets or do anything else, with every transaction you get a scratch card when you scratch it then only you will know the coupon you got Whether it is to be used in shopping or with booking tickets or paying bills.
It is also told on that coupon code that when you use this coupon code while doing the next transaction, then how much phonepe cashback you will get, by doing this you will keep getting some cashback with every transaction on this app. Now in this post of how to earn money from PhonePe App, we will give you information about cashback offer list.
PhonePe Cashback Offers List
If you have selected english language in your Phone Pe App then when you open it and it will come down a bit you will get an option "My Rewards" If you click on it then you will have all the rewards or coupons that you have while doing the transaction. The list of all those coupons that have been won will be visible here.
You can check by clicking on all those coupons whether that coupon has expired and if it has not, then you will be able to use that cashback coupon code while making any purchases, where you will get the code will also get.
Use the phonepe cashback coupon code within its period, after the expiry of the period, that coupon expires and will be of no use to you.
PhonePe Mobile Recharge Offer
Whenever you go to recharge mobile on PhonePe, first of all click on "My Rewards" to check whether you already have any PhonePe coupon? If yes, will it be able to be used while recharging the mobile?
If you already have a PhonePe coupon , then you can use it while recharging mobile and can take advantage of cashback and if you do not already have a PhonePe coupon then when you recharge mobile then you will get a scratch card Scratch it and check that the new coupon you got will be used for what purpose.
Phone Pe App keeps on providing phonepe offers from time to time, for this you keep updating your phone pe app from time to time by visiting the play store, when you update it, only then you will be able to get new offers in it.
And now in this episode of how to earn money from PhonePe App, we will tell the things that you were waiting for like who is the owner of PhonePe App?, and how safe is this app.
Who owns PhonePe?
Phone Pe is a private limited private company, and its founder and CEO is Samir Nigam and its co-founder and CTO is Rahul Chari.
The main industry of Phone Pe is internet e-commerce and its main services are payment systems, digital wallets, mobile payments, online shopping etc.
If we talk about the revenue of Phone Pe, then ₹ 42.79 crore in the year 2018-2019, which if seen in US dollars is $ 6.0 million.
The headquarters of Phone Pe App is located in the Indian state of Bangalore and it was established in the year 2015. More than 11 Indian languages ​​are available in this app and you can play it in your own language.
Is PhonePe App secure?
Phone Pe App is completely safe and secure , you do not need to hesitate to do any kind of transaction in this app. phone Pe has a legal license to transfer money which it obtained on 26 August 2014.
The company has partnered with the government-backed UPI platform, as well as with Yes Bank in April 2016. This company was acquired by Flipkart, and currently it provides online payment system through UPI.
How does the PhonePe App support?
If you talk about support on Phone Pe App , then you can get solutions to your problems by connecting to their customer service officer at any time by call or email, for this you will open this app in your mobile, go to the support section , and can then be connected via the contact number of the customer service officer or via email.
Phone Pe Payment Failed
If your any kind of transaction fails, whether it is recharge or there is a problem while transferring money from one bank to another, you can register a complaint for this, you will take immediate action on that problem and if the transaction If it fails, then your money is returned to your account.
For this, you open your Phone Pe App, and there is a question mark in the top right side of the homepage itself, click on it, now choose your language, and then below is the list of all those problems related to phone pe. Whatever problem you have in the list, click on it and select it.
As soon as you click, all the transactions done by you will appear in front of you, click on any of the transactions that have failed, now again click on your problem, and on clicking, you will have some questions from the phone pe customer officer. The questions will be asked and you will answer them and then your problem will be fixed.
Although transaction related problems on PhonePe happen rarely but you contact the customer officer and your problem is resolved immediately.
Another app like Phone Pe
There are many other apps like Phone Pe App in which you can transfer money from one bank to another online, recharge mobile or TV, book tickets, pay electricity and water bills.
Google Pay also works like PhonePe app and you can also use Paytm as PhonePe. Apart from this, Bhim App , an app released by the Government of India, can also be used for money transfer or recharge and Bill Pay.
Final Thoughts
Before running any digital wallet or online payment app, we should know about that app, we should know about the security provided by it, only then we should use it because we can use our bank in that app. Enter the relevant information.
So in this post we learned what is PhonePe App?, How to earn money from PhonePe App ? The security related to this app and who made it and when it was also known. Along with this, we also got all the information about the cashback and promo codes etc. available from this app.